HAND BUILT KITCHENS BY STONEHAM
Every Stoneham kitchen is hand built to order, and to last, at their modern factory in Sidcup, Kent.
You don't just buy a Stoneham kitchen; you invest in one. So, it will come as no surprise that our bespoke designer kitchens are often named as a key feature when marketing properties. With good reason too, because every timeless Stoneham kitchen comes with absolute peace of mind, borne from 150 year's commitment to quality craftsmanship and exemplary service.
At Stoneham they have a clear vision: to create high quality, long lasting, delightful furniture and kitchens, perfectly designed for each and every customer.
Crafted from the finest materials and components available, Stoneham's bespoke kitchens are built to provide many years of pleasure and service.
Product ranges:
Heritage
"Characterised by its traditional 'in-frame' style of construction, the Heritage collection has many styles & finishes, traditional & contemporary"
Avant Garde
"Our Avant Garde collection uses a contemporary 'lay-on' door design. Numerous range styles, innovative storage solutions, & advanced fittings"
Beyond the kitchen
"Our repertoire extends to furniture for other rooms. A bar, study, media room, bathrooms or bedrooms. A bespoke service awaits you"
Organisation & storage
"Clever, efficient storage and space saving ideas ensure the kitchen is as practical as it is delightful"
Design features
"Specific design details – be it a shape, an exotic material or even an engraved name can provide a flourish of individuality"
Grand Designs
"Visitors to the stunning Stoneham exhibit at Grand Designs Live were able to see the latest innovations that make Stoneham stand out"
WHY NOT HAVE A CHAT WITH OUR DESIGN TEAM OR VISIT ONE OF OUR KITCHEN SHOWROOMS?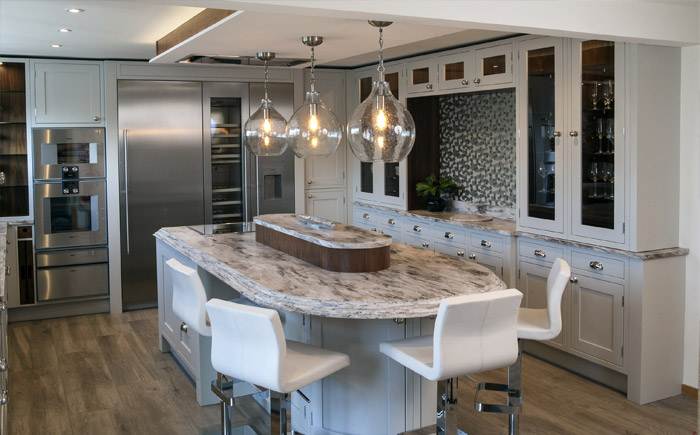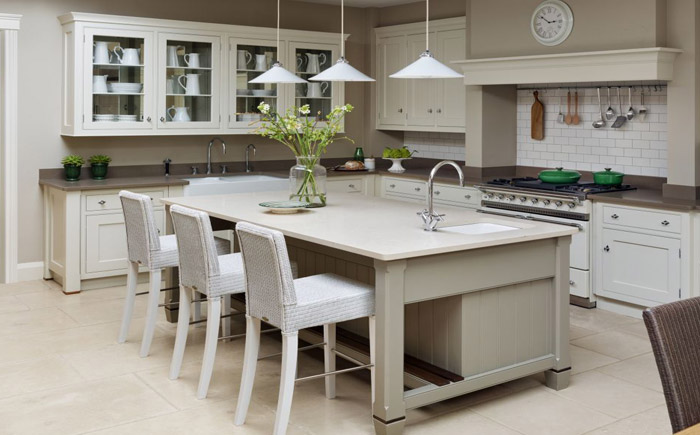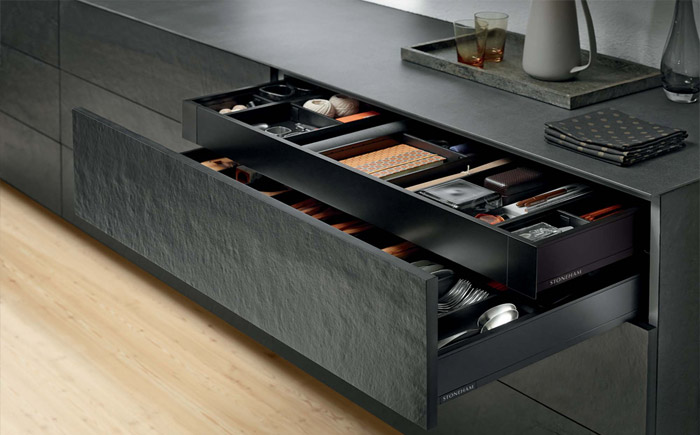 STONEHAM KITCHEN GALLERY
A small selection of some of Stoneham's kitchen designs
WHAT OUR CLIENTS SAY

WE'VE JUST HAD A NEW KITCHEN FROM THE CHELTENHAM BRANCH OF CULINA AND BALNEO AND IT HAS SURPASSED ALL OUR EXPECTATIONS. ALEX FORD, OUR DESIGNER, SEEMED TO 'GET US' FROM THE BEGINNING, COMING UP WITH SOME BRILLIANT IDEAS AND NO DETAIL WAS TOO SMALL FOR HIS ATTENTION AND CARE. THEN WE COULDN'T HAVE ASKED FOR A MORE PROFESSIONAL AND FRIENDLY SERVICE FROM THE DELIVERY GUYS AND FITTERS AND ALEX STAYED PERSONALLY INVOLVED THROUGHOUT, WHICH WE APPRECIATED. HAVING A NEW KITCHEN IS A MAJOR DISRUPTION AND ALL INVOLVED MADE IT A PLEASURABLE EXPERIENCE – THANKS EVERYONE. WE ARE SO PLEASED WITH THE OUTCOME, WHICH IS FAR MORE THAN JUST A KITCHEN – IT HAS ENHANCED THE WAY WE LIVE AND SOCIALISE.
I LOVE MY KITCHEN AND I'M PARTICULARLY DELIGHTED WITH THE DRAWERS, THEY WERE WELL DESIGNED FOR THE USE OF UTENSILS AND CUTLERY.
EVERYTHING ABOUT THE KITCHEN WAS PERFECT, FROM START TO FINISH FROM THE DESIGN, SALES PERSON AND FITTING.
THE SALES PERSON HAD A LOT OF KNOWLEDGE ABOUT DESIGNING KITCHENS, AND GAVE US GOOD ADVICE MANY TIMES
STUART LISTENED TO WHAT WE WANTED, SHOWED ME THE BEST QUALITY GOODS AND FROM THERE WE WERE ABLE TO ACHIEVE THE BEST POSSIBLE KITCHEN WITHIN MY BUDGET.
THE DESIGNERS WERE ALWAYS ON HAND TO ANSWER ANY QUESTIONS, GIVE ADVICE AND OFFER GUIDANCE. MY DELIVERY WAS MADE ON TIME WITH STAFF THAT WERE FRIENDLY AND HELPFUL WHEN DELIVERING GOODS.
THE SHOWROOM STAFF ARE ALL LOVELY. I THINK CULINA BALNEO PROVIDE FANTASTIC PRODUCTS AND SERVICES.