THE LATEST PRODUCTS BY LIEBHERR
Our refrigerators, freezers and combination appliances for the home all offer modern design, outstanding technical performance and highly convenient use.
Anyone committed to the highest quality cannot accept compromise. At Liebherr we use our expertise to guarantee premium-quality products – and have done so for more than 60 years. Across the refrigeration spectrum we offer a wide range of compelling appliances that impress with intuitive operation, energy efficiency, classic design, and a multitude of practical functions geared to ensuring that food retains its freshness and quality, and so to facilitating a healthy, modern lifestyle.
Environmental sustainability and responsibility are also of primary importance to us when we develop our new appliances, and so it is not surprising that we frequently receive major awards and certificates in this area. There are many great reasons to choose Liebherr – when will you make the right choice and the excellent choice?
As a refrigerator and freezer specialist, we have been continuously developing innovative and convincing product solutions for more than 60 years. The trust that our customers place in us is a daily incentive for us to continue providing top-quality products. When it comes to buying new appliances, no other manufacturer in the field of large domestic goods has as many loyal repeat.
Fridge Freezers
Free standing table height freezers
Freezers
Chest Freezers
Wine Cabinets
WHY NOT HAVE A CHAT WITH OUR DESIGN TEAM OR VISIT ONE OF OUR KITCHEN SHOWROOMS?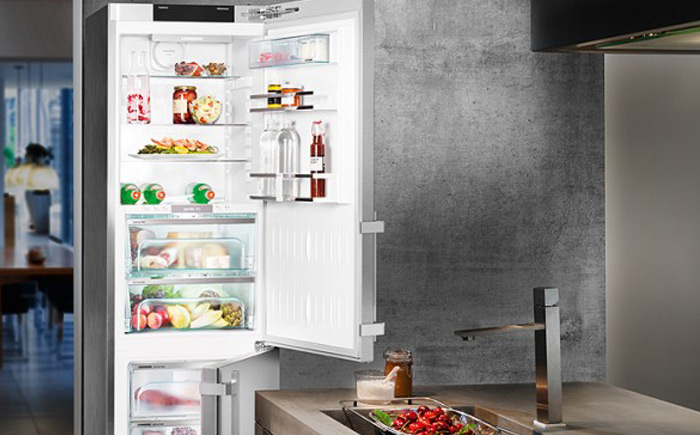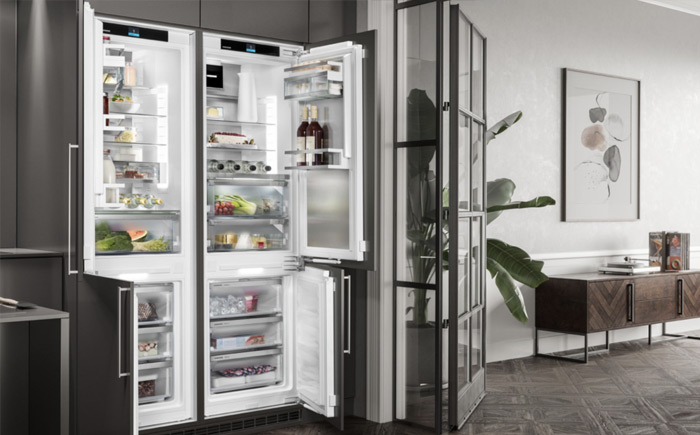 MODERN KITCHENS BIRMINGHAM GALLERY
Take a look at some of our modern kitchen Birmingham designs
WHAT OUR CLIENTS SAY

WE'VE JUST HAD A NEW KITCHEN FROM THE CHELTENHAM BRANCH OF CULINA AND BALNEO AND IT HAS SURPASSED ALL OUR EXPECTATIONS. ALEX FORD, OUR DESIGNER, SEEMED TO 'GET US' FROM THE BEGINNING, COMING UP WITH SOME BRILLIANT IDEAS AND NO DETAIL WAS TOO SMALL FOR HIS ATTENTION AND CARE. THEN WE COULDN'T HAVE ASKED FOR A MORE PROFESSIONAL AND FRIENDLY SERVICE FROM THE DELIVERY GUYS AND FITTERS AND ALEX STAYED PERSONALLY INVOLVED THROUGHOUT, WHICH WE APPRECIATED. HAVING A NEW KITCHEN IS A MAJOR DISRUPTION AND ALL INVOLVED MADE IT A PLEASURABLE EXPERIENCE – THANKS EVERYONE. WE ARE SO PLEASED WITH THE OUTCOME, WHICH IS FAR MORE THAN JUST A KITCHEN – IT HAS ENHANCED THE WAY WE LIVE AND SOCIALISE.
I LOVE MY KITCHEN AND I'M PARTICULARLY DELIGHTED WITH THE DRAWERS, THEY WERE WELL DESIGNED FOR THE USE OF UTENSILS AND CUTLERY.
EVERYTHING ABOUT THE KITCHEN WAS PERFECT, FROM START TO FINISH FROM THE DESIGN, SALES PERSON AND FITTING.
THE SALES PERSON HAD A LOT OF KNOWLEDGE ABOUT DESIGNING KITCHENS, AND GAVE US GOOD ADVICE MANY TIMES
STUART LISTENED TO WHAT WE WANTED, SHOWED ME THE BEST QUALITY GOODS AND FROM THERE WE WERE ABLE TO ACHIEVE THE BEST POSSIBLE KITCHEN WITHIN MY BUDGET.
THE DESIGNERS WERE ALWAYS ON HAND TO ANSWER ANY QUESTIONS, GIVE ADVICE AND OFFER GUIDANCE. MY DELIVERY WAS MADE ON TIME WITH STAFF THAT WERE FRIENDLY AND HELPFUL WHEN DELIVERING GOODS.
THE SHOWROOM STAFF ARE ALL LOVELY. I THINK CULINA BALNEO PROVIDE FANTASTIC PRODUCTS AND SERVICES.