HURLINGHAM BATHS
Hurlingham… a distinctive, individual and head-turning collection of original and classic freestanding baths and accessories, with an additional offering – an inspiring creative ability to offer a 'bespoke twist' tailored to our customer's particular requirements.
Since its inception and launch, Hurlingham – The Bath Company philosophy is deeply rooted. Our aim – to not only deliver a unique and superb collection, we also challenge our very 'own' creativity. We constantly explore new design influences which present both thrilling and timeless craftsmanship. Our passion is in our approach.
Made from classic and authentic materials such as cast iron, copper, brass, stainless steel and even marble, our baths are customised and hand decorated in our Lincolnshire workshop by skilled craftsmen.
Individual refinement …we believe a requirement should be an extension of an individual décor decision, almost mirroring a 'personal journey' through shape, texture and colour influenced by personality and lifestyle.
Offering a continuing range of bespoke decorative finishes from the choice of over 4000 paint colours, a choice of fabric or genuine leather, Houlés braiding, real or faux metal leaf gilding, the use of cast iron appliqués and even intensive hand polishing finish, our approach is truly individual to add something really momentous to any bathroom.
This dedicated approach means Hurlingham have a deeper knowledge and passion for our craft and we aim to instil this care into every product.
Cast Iron Baths
Copper & Nickel Baths
Brass Baths
Marble Baths
Stainless Steel Baths
Antique Original Baths
PAINTED BATHS
We believe you should never have to settle or compromise, your bath should be an extension of your individual décor decisions. We offer our customers a custom paint finish. We can replicate any paint hue including all of the Farrow and Ball range.
HAND POLISHED
Hand Polished Cast Iron Baths At Hurlingham our quest is to offer a distinctive exquisite product, while creating individual refinement to add something really momentous to your bathroom.
WHY NOT HAVE A CHAT WITH OUR DESIGN TEAM OR VISIT ONE OF OUR BATHROOM SHOWROOMS?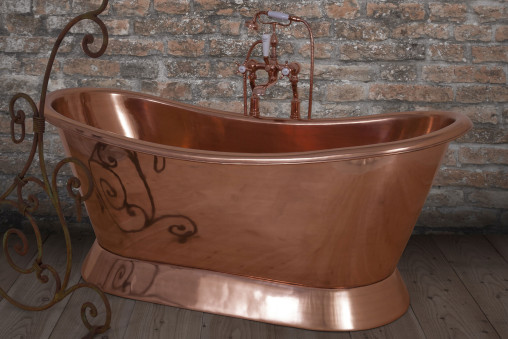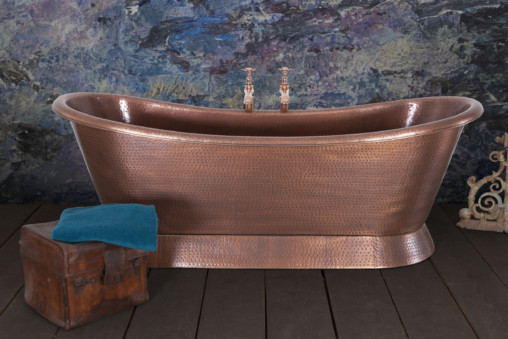 MODERN BATHROOM GALLERY
A small selection of some of our modern bathroom designs
WHAT OUR CLIENTS SAY

WE'VE JUST HAD A NEW KITCHEN FROM THE CHELTENHAM BRANCH OF CULINA AND BALNEO AND IT HAS SURPASSED ALL OUR EXPECTATIONS. ALEX FORD, OUR DESIGNER, SEEMED TO 'GET US' FROM THE BEGINNING, COMING UP WITH SOME BRILLIANT IDEAS AND NO DETAIL WAS TOO SMALL FOR HIS ATTENTION AND CARE. THEN WE COULDN'T HAVE ASKED FOR A MORE PROFESSIONAL AND FRIENDLY SERVICE FROM THE DELIVERY GUYS AND FITTERS AND ALEX STAYED PERSONALLY INVOLVED THROUGHOUT, WHICH WE APPRECIATED. HAVING A NEW KITCHEN IS A MAJOR DISRUPTION AND ALL INVOLVED MADE IT A PLEASURABLE EXPERIENCE – THANKS EVERYONE. WE ARE SO PLEASED WITH THE OUTCOME, WHICH IS FAR MORE THAN JUST A KITCHEN – IT HAS ENHANCED THE WAY WE LIVE AND SOCIALISE.
I LOVE MY KITCHEN AND I'M PARTICULARLY DELIGHTED WITH THE DRAWERS, THEY WERE WELL DESIGNED FOR THE USE OF UTENSILS AND CUTLERY.
EVERYTHING ABOUT THE KITCHEN WAS PERFECT, FROM START TO FINISH FROM THE DESIGN, SALES PERSON AND FITTING.
THE SALES PERSON HAD A LOT OF KNOWLEDGE ABOUT DESIGNING KITCHENS, AND GAVE US GOOD ADVICE MANY TIMES
STUART LISTENED TO WHAT WE WANTED, SHOWED ME THE BEST QUALITY GOODS AND FROM THERE WE WERE ABLE TO ACHIEVE THE BEST POSSIBLE KITCHEN WITHIN MY BUDGET.
THE DESIGNERS WERE ALWAYS ON HAND TO ANSWER ANY QUESTIONS, GIVE ADVICE AND OFFER GUIDANCE. MY DELIVERY WAS MADE ON TIME WITH STAFF THAT WERE FRIENDLY AND HELPFUL WHEN DELIVERING GOODS.
THE SHOWROOM STAFF ARE ALL LOVELY. I THINK CULINA BALNEO PROVIDE FANTASTIC PRODUCTS AND SERVICES.