GEBERIT FUNCTIONAL BEAUTY
The Geberit name stands for proven know-how in the field of sanitary technology – but also for innovations that make your bathroom safer, more attractive and more convenient. Let yourself be inspired by our ideas and create modern bathroom designs that offer convenience and a beautiful look.
More flexibility in the bathroom
Do you want to create a fresh and outstanding highlight in your bathroom, but don't want to disturb the beauty of an existing wall?
With Geberit Monolith, you do not have to compromise. After all, truly impressive design comprises of not only the aesthetic design, but also the function, the product material and the innovative technology behind it.
The Geberit Monolith opens up unexpected possibilities when it comes to bathroom design. The modules for WC, bidet or washbasin can be combined with most standard sanitary ceramics and automatic taps.
The front covers, which are made of high-quality safety glass, are available in various colours (black, white, sand and umber). Your Geberit Monolith will therefore always match your style.
Flush plates in luxury materials for demanding requirements
Flush plates add that finishing touch to any bathroom design. However, it is not just about design, the flush plate hides a wealth of technology and functionality behind it, including our concealed sanitary installation systems, the cistern itself, and even odour extraction with the Geberit Sigma40. With different design lines, materials, colours and surface finishes, Geberit perfectly combines good design and reliable functionality. Geberit flush plates don't just look great – they have versatile functions, catering to a range of applications and special structural requirements.
Geberit flush plates are made of high-quality, durable, lightfast materials with plastic or glass surfaces, and manufactured of die-cast zinc or stainless steel to meet more demanding requirements of durability and security. Depending on requirements, manual, electronic or pneumatic flush actuation can be used.
Geberit washbasin taps
Geberit sanitary products for washbasins ensure safe and reliable operation as well as an attractive look.
Geberit offers a comprehensive range of attractive taps for washbasins. They feature a long service life and protection against corrosion. They also provide a high discharge rate and are shaped for optimised flow in order to counteract clogging. They are standard-tested as per EN 274.
Bathroom taps
Bathroom flush plates and flush buttons
Bathroom sinks
Bathroom WC's
Bathroom basins
WHY NOT HAVE A CHAT WITH OUR DESIGN TEAM OR VISIT ONE OF OUR BATHROOM SHOWROOMS?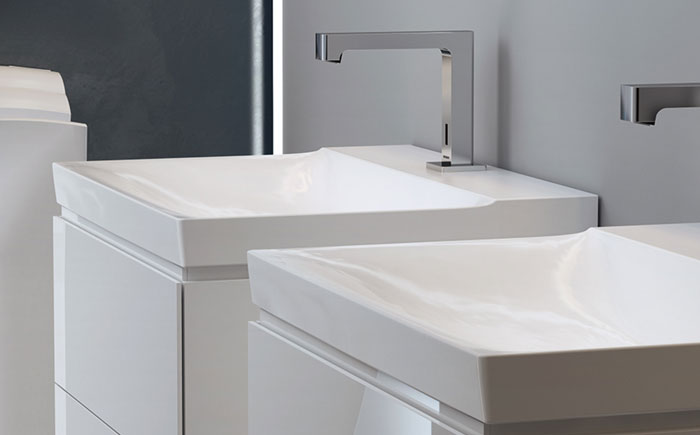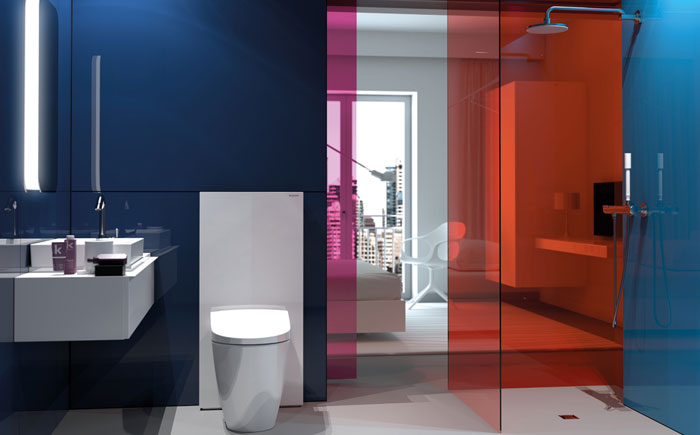 MODERN BATHROOM GALLERY
A small selection of some of our modern bathroom designs
WHAT OUR CLIENTS SAY

WE'VE JUST HAD A NEW KITCHEN FROM THE CHELTENHAM BRANCH OF CULINA AND BALNEO AND IT HAS SURPASSED ALL OUR EXPECTATIONS. ALEX FORD, OUR DESIGNER, SEEMED TO 'GET US' FROM THE BEGINNING, COMING UP WITH SOME BRILLIANT IDEAS AND NO DETAIL WAS TOO SMALL FOR HIS ATTENTION AND CARE. THEN WE COULDN'T HAVE ASKED FOR A MORE PROFESSIONAL AND FRIENDLY SERVICE FROM THE DELIVERY GUYS AND FITTERS AND ALEX STAYED PERSONALLY INVOLVED THROUGHOUT, WHICH WE APPRECIATED. HAVING A NEW KITCHEN IS A MAJOR DISRUPTION AND ALL INVOLVED MADE IT A PLEASURABLE EXPERIENCE – THANKS EVERYONE. WE ARE SO PLEASED WITH THE OUTCOME, WHICH IS FAR MORE THAN JUST A KITCHEN – IT HAS ENHANCED THE WAY WE LIVE AND SOCIALISE.
I LOVE MY KITCHEN AND I'M PARTICULARLY DELIGHTED WITH THE DRAWERS, THEY WERE WELL DESIGNED FOR THE USE OF UTENSILS AND CUTLERY.
EVERYTHING ABOUT THE KITCHEN WAS PERFECT, FROM START TO FINISH FROM THE DESIGN, SALES PERSON AND FITTING.
THE SALES PERSON HAD A LOT OF KNOWLEDGE ABOUT DESIGNING KITCHENS, AND GAVE US GOOD ADVICE MANY TIMES
STUART LISTENED TO WHAT WE WANTED, SHOWED ME THE BEST QUALITY GOODS AND FROM THERE WE WERE ABLE TO ACHIEVE THE BEST POSSIBLE KITCHEN WITHIN MY BUDGET.
THE DESIGNERS WERE ALWAYS ON HAND TO ANSWER ANY QUESTIONS, GIVE ADVICE AND OFFER GUIDANCE. MY DELIVERY WAS MADE ON TIME WITH STAFF THAT WERE FRIENDLY AND HELPFUL WHEN DELIVERING GOODS.
THE SHOWROOM STAFF ARE ALL LOVELY. I THINK CULINA BALNEO PROVIDE FANTASTIC PRODUCTS AND SERVICES.