CALYPSO BATHROOMS
The Calypso bathroom furniture range includes a huge selection of fitted, modular and vanity units to suit any home. Make it yours.
Whether you are looking for a traditional style bathroom for a house or a contemporary suite for a modern apartment, with Calypso bathroom furniture you can plan and design it the way you want it. Fitted furniture provides luxury with maximum storage and Vanity furniture creates a sumptuous spa bathroom experience while providing storage space for essential items.
Full of superb designs, alluring styles and practical ideas, you are sure to find inspiration for your own dream bathroom, stunning en-suite or appealing cloakroom.
FITTED BATHROOM FURNITURE
The versatility of Calypso furniture brings a solution to any bathroom. A choice of carcass heights, depths and an excellent range of unit types and sizes makes it easy to maximise the use of the space you have. Five door styles in 34 shades allow this comprehensive range of bathroom furniture to adapt to suit any style of home. With complimenting sanitary ware and worktops to suit all budgets, our fitted bathroom furniture has something for everyone.
VANITY BATHROOM FURNITURE
Calypso vanity and modular furniture has been created to give a luxurious minimalist feel with the benefit of maximising the useable space within your bathroom. This furniture has been specifically designed to stand alone giving you the ability to adapt to any space with ease. We stock an array of different sizes within each range to suit all individual situations, giving you the choice you need as you create your own dream bathroom. Turn your house into a home, relax and enjoy your vanity furniture for years to come.
COLLECTION ONE BATHROOM FURNITURE
Elegance, subtlety, sophistication, charm, opulence or simplicity – Whatever feel you are looking to create in your bathroom, en-suite or another living area, the Calypso Collection One vanity range holds the key. Beautifully crafted and with a well-balanced mix of modern and traditional designs and finishes, Collection One vanity furniture is sure to bring status and style wherever it is introduced.
WHY NOT HAVE A CHAT WITH OUR DESIGN TEAM OR VISIT ONE OF OUR BATHROOM SHOWROOMS?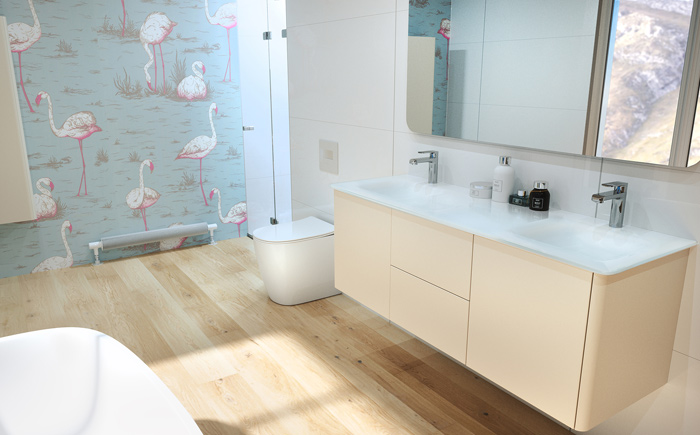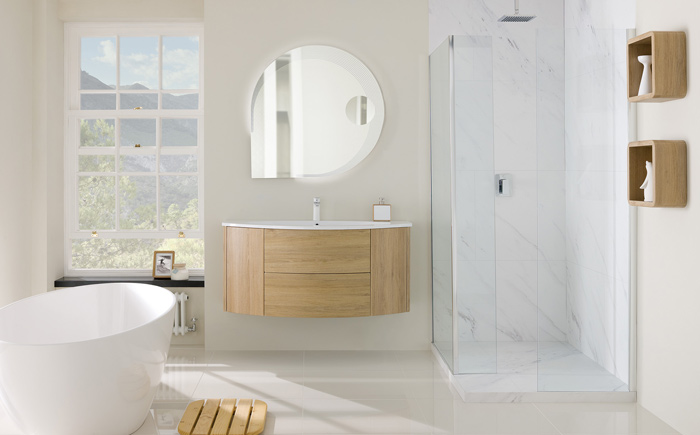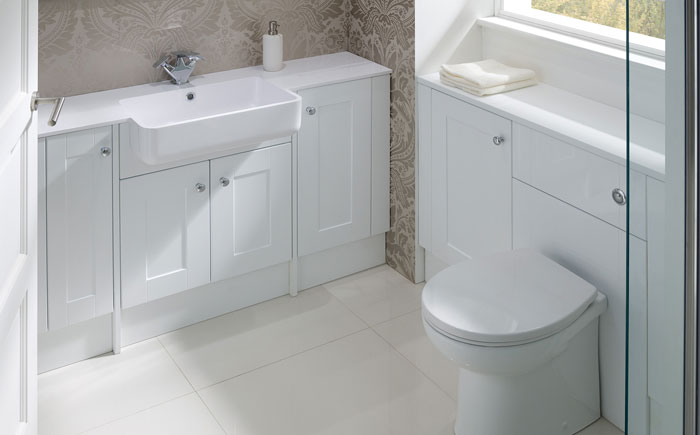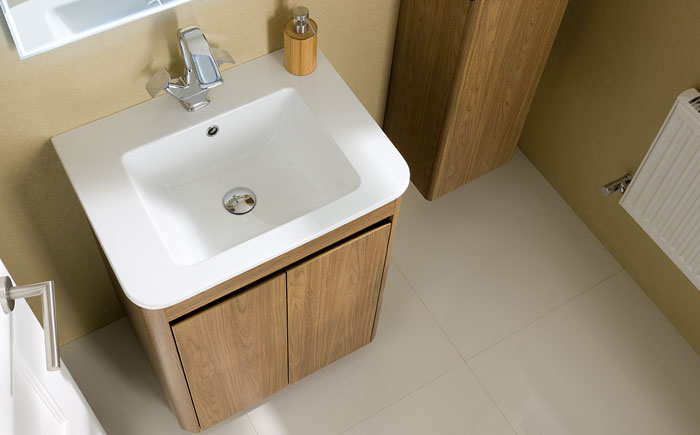 MODERN BATHROOM GALLERY
A small selection of some of our modern bathroom designs
WHAT OUR CLIENTS SAY

WE'VE JUST HAD A NEW KITCHEN FROM THE CHELTENHAM BRANCH OF CULINA AND BALNEO AND IT HAS SURPASSED ALL OUR EXPECTATIONS. ALEX FORD, OUR DESIGNER, SEEMED TO 'GET US' FROM THE BEGINNING, COMING UP WITH SOME BRILLIANT IDEAS AND NO DETAIL WAS TOO SMALL FOR HIS ATTENTION AND CARE. THEN WE COULDN'T HAVE ASKED FOR A MORE PROFESSIONAL AND FRIENDLY SERVICE FROM THE DELIVERY GUYS AND FITTERS AND ALEX STAYED PERSONALLY INVOLVED THROUGHOUT, WHICH WE APPRECIATED. HAVING A NEW KITCHEN IS A MAJOR DISRUPTION AND ALL INVOLVED MADE IT A PLEASURABLE EXPERIENCE – THANKS EVERYONE. WE ARE SO PLEASED WITH THE OUTCOME, WHICH IS FAR MORE THAN JUST A KITCHEN – IT HAS ENHANCED THE WAY WE LIVE AND SOCIALISE.
I LOVE MY KITCHEN AND I'M PARTICULARLY DELIGHTED WITH THE DRAWERS, THEY WERE WELL DESIGNED FOR THE USE OF UTENSILS AND CUTLERY.
EVERYTHING ABOUT THE KITCHEN WAS PERFECT, FROM START TO FINISH FROM THE DESIGN, SALES PERSON AND FITTING.
THE SALES PERSON HAD A LOT OF KNOWLEDGE ABOUT DESIGNING KITCHENS, AND GAVE US GOOD ADVICE MANY TIMES
STUART LISTENED TO WHAT WE WANTED, SHOWED ME THE BEST QUALITY GOODS AND FROM THERE WE WERE ABLE TO ACHIEVE THE BEST POSSIBLE KITCHEN WITHIN MY BUDGET.
THE DESIGNERS WERE ALWAYS ON HAND TO ANSWER ANY QUESTIONS, GIVE ADVICE AND OFFER GUIDANCE. MY DELIVERY WAS MADE ON TIME WITH STAFF THAT WERE FRIENDLY AND HELPFUL WHEN DELIVERING GOODS.
THE SHOWROOM STAFF ARE ALL LOVELY. I THINK CULINA BALNEO PROVIDE FANTASTIC PRODUCTS AND SERVICES.