A TRUE TAP REVOLUTION …
The new kitchen must-have. Quooker: the tap that immediately dispenses boiling water. Tap on the worktop, tank underneath. A 100% Dutch invention taking over the world. You can choose between a separate boiling water tap with accompanying mixer tap, or the Quooker Flex or Fusion: a single tap for hot, cold and boiling water. Ultra-safe, super-efficient and available in eight tap designs and three finishes.
And if you thought that the Quooker was wasteful, think again: the patented high-vacuum insulation ensures that the Quooker's standby usage is just 3 pence a day. For even more efficiency, choose a COMBI tank, a single, amazingly economical way to produce both hot and boiling water.
No kitchen is complete without its Quooker.
FLEX TAPS BY QUOOKER
Boiling-water tap and mixing tap in one, with a flexible pull out hose for more reach and extra functionality.
FUSION TAPS BY QUOOKER TAPS
Our newest innovation the Fusion, is a single tap which unites both mixer and boiling water functions. Convenient, space-saving and sleek. Incorporates a childproof double-push-and-turn handle with light ring.
TWINTAPS BY QUOOKER
Quooker's Twintaps, our matching boiling-water and mixer taps, are both practical and stylish. The boiling-water tap is height-adjustable.
NORDIC SINGLE TAPS BY QUOOKER
The Nordic boiling water taps from our Twintaps series are also available separately for combining with your existing mixer tap.
CLASSIC SINGLE TAP BY QUOOKER
Our collection offers a Quooker boiling-water tap to match a classic style of mixer tap. The tap has childproof push-and-turn handle, can be turned 360°, is height-adjustable and insulated.
TANKS
There are two types of Quooker tanks available. The PRO tanks ensures that you always have access to boiling water, while the COMBI offers both boiling and hot water. Each tank features our patented high-vacuum technology.
ACCESSORIES
We offer a range of accessories to ensure that your Quooker set-up is complete, such as soap dispensers in Nordic design, mounting brackets for all tanks and the Scale Control (water softener) for use in areas with extremely hard water.
COLD FILTERED WATER
The Cold Water Filter has been designed to allow you to to quickly switch from tap water to cold filtered water. Any new Fusion or Flex will now be able to supply cold filtered water via a single push and turn which when engaged will light the tap ring blue. The water passes through an activated-carbon filter which ensures the water tastes and smells better.
WHY NOT HAVE A CHAT WITH OUR DESIGN TEAM OR VISIT ONE OF OUR BATHROOM SHOWROOMS?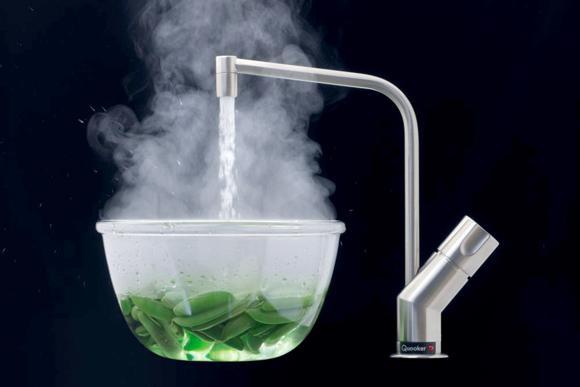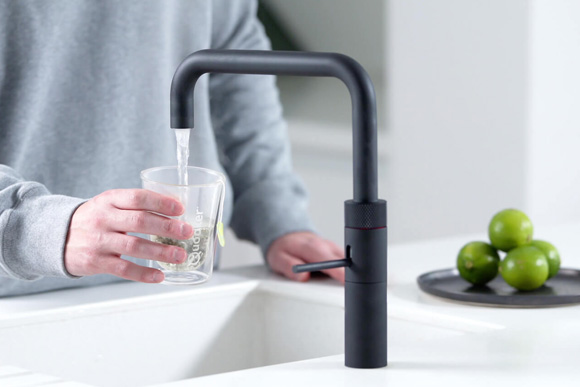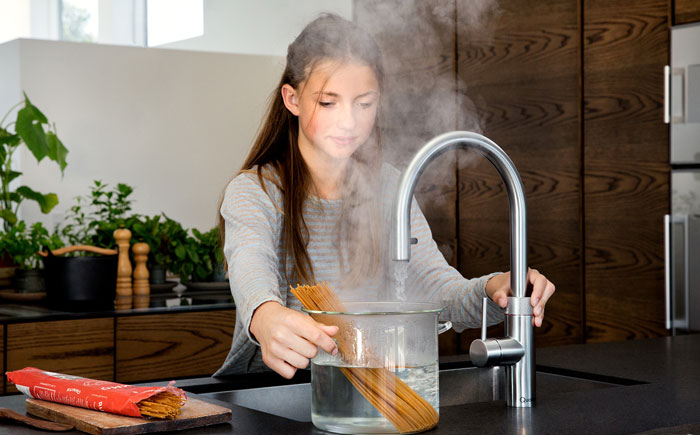 MODERN KITCHENS BIRMINGHAM GALLERY
Take a look at some of our modern kitchen Birmingham designs
WHAT OUR CLIENTS SAY

WE'VE JUST HAD A NEW KITCHEN FROM THE CHELTENHAM BRANCH OF CULINA AND BALNEO AND IT HAS SURPASSED ALL OUR EXPECTATIONS. ALEX FORD, OUR DESIGNER, SEEMED TO 'GET US' FROM THE BEGINNING, COMING UP WITH SOME BRILLIANT IDEAS AND NO DETAIL WAS TOO SMALL FOR HIS ATTENTION AND CARE. THEN WE COULDN'T HAVE ASKED FOR A MORE PROFESSIONAL AND FRIENDLY SERVICE FROM THE DELIVERY GUYS AND FITTERS AND ALEX STAYED PERSONALLY INVOLVED THROUGHOUT, WHICH WE APPRECIATED. HAVING A NEW KITCHEN IS A MAJOR DISRUPTION AND ALL INVOLVED MADE IT A PLEASURABLE EXPERIENCE – THANKS EVERYONE. WE ARE SO PLEASED WITH THE OUTCOME, WHICH IS FAR MORE THAN JUST A KITCHEN – IT HAS ENHANCED THE WAY WE LIVE AND SOCIALISE.
I LOVE MY KITCHEN AND I'M PARTICULARLY DELIGHTED WITH THE DRAWERS, THEY WERE WELL DESIGNED FOR THE USE OF UTENSILS AND CUTLERY.
EVERYTHING ABOUT THE KITCHEN WAS PERFECT, FROM START TO FINISH FROM THE DESIGN, SALES PERSON AND FITTING.
THE SALES PERSON HAD A LOT OF KNOWLEDGE ABOUT DESIGNING KITCHENS, AND GAVE US GOOD ADVICE MANY TIMES
STUART LISTENED TO WHAT WE WANTED, SHOWED ME THE BEST QUALITY GOODS AND FROM THERE WE WERE ABLE TO ACHIEVE THE BEST POSSIBLE KITCHEN WITHIN MY BUDGET.
THE DESIGNERS WERE ALWAYS ON HAND TO ANSWER ANY QUESTIONS, GIVE ADVICE AND OFFER GUIDANCE. MY DELIVERY WAS MADE ON TIME WITH STAFF THAT WERE FRIENDLY AND HELPFUL WHEN DELIVERING GOODS.
THE SHOWROOM STAFF ARE ALL LOVELY. I THINK CULINA BALNEO PROVIDE FANTASTIC PRODUCTS AND SERVICES.